Netflix's We Can Be Heroes is a zany, imaginative and a kid-oriented Avengers version which combines some of the biggest stars with effects that are Snapchat level. The movie is an ultimate troublemaker movie. It has characters from Spy Kids and 2005's The Adventures of Sharkboy and Lavagirl, so you could actually call it a spin-off. It boasts more visual wit than any superhero movie on the other side of the Spider-Verse.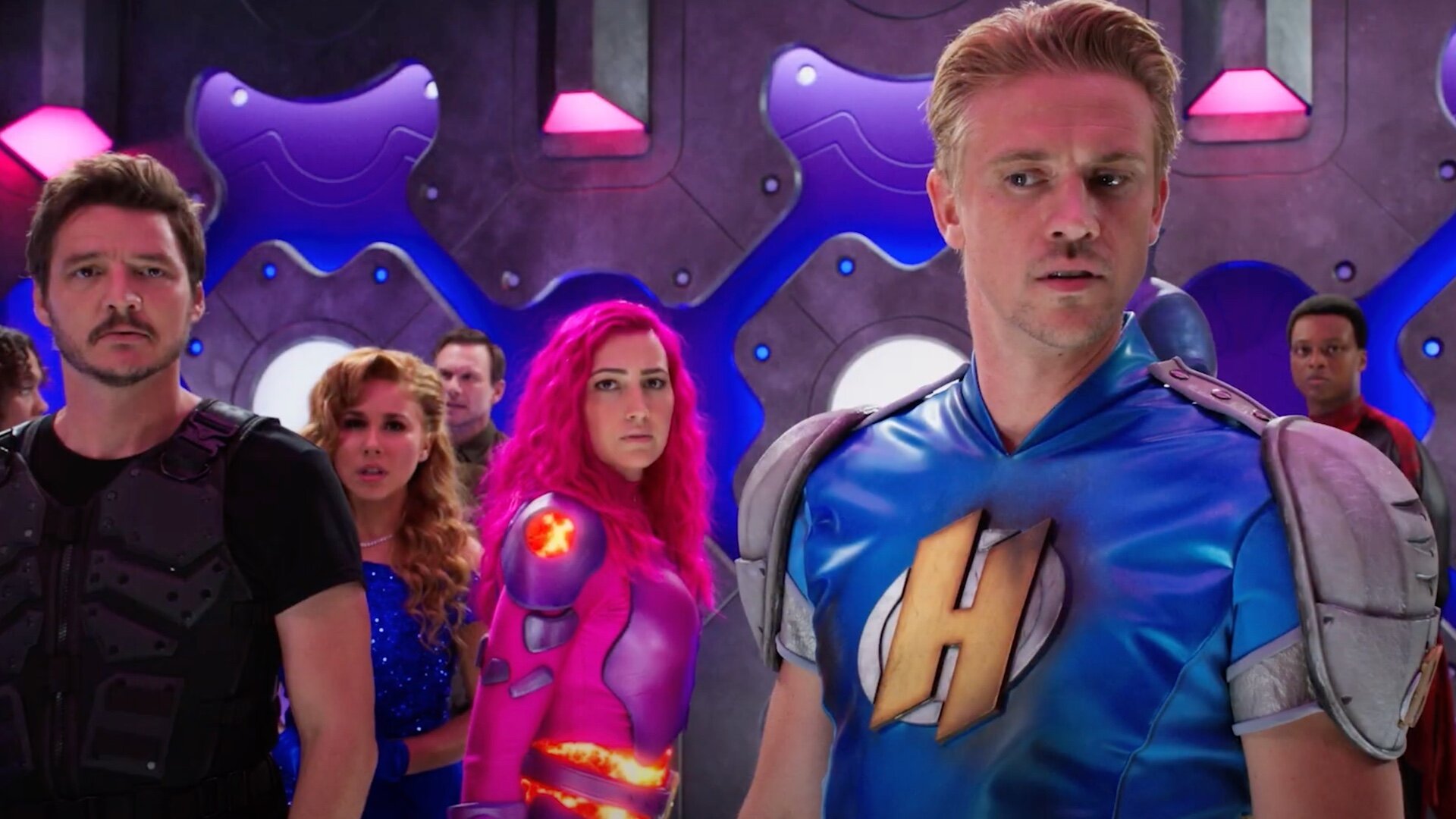 A handful of spirited performances that only make sense as personal favours, the only bit of justice that Han Lue was able to do this year, and a five-year-old girl named Guppy whose childish yet adorable Hulk-like freakouts inspire one panicked character to say the year's single most "finest" line of dialogue: "Look out, she's got shark strength!"
The story begins with Christian Slater strapped to a jetpack and hovering in the sky with Miracle Guy (Boyd Holbrook), who flies mid-space to discover unprecedented danger from what Hollywood has always feared – aliens. It is an armada of purple 'squidwards' (Get it?).
The aliens soon prove to be daunting foes for the Superhero Corp, the Heroics, as they capture all the superheroes and are after their kids next. Even Marcus Moreno (Pedro Pascal), the former leader of the Heroics and also the last man standing after the other heroes were captured, couldn't make a difference.
It finally comes upon the children of the Heroics to save their parents and the Earth from the squidwards. But first, they need to get passed the evil CEO of the Heroics, Ms. Granada (Priyanka Chopra). Missy (YaYa Gosselin) and her beloved abuelita (Adriana Barraza), thus, put a team together with the kids and they are up, up and away.
So the room full of kids she met at the Heroics, namely, Rewind (Isaiah Russell-Bailey), who can turn back the clock a few moments; Fast Forward (Akira Akbar), who can predict the future; A Capella (Lotus Blossom), who can do amazing things with her singing voice; Noodles (Lyon Daniels), who can stretch his body in miraculous ways; Facemaker (Andrew Diaz), who can alter his appearance at will; and even Sharkboy and Lavagirl's progeny Guppy (Vivien Blair), who can manipulate water, put together a team as they set on a mission to save their parents and the Earth from the squidwards.
Frankly, it's hard to keep track, although parents should be very grateful for the abandonment of the film's original plan to have one of the kids' superpowers be the ability to emit toxic farts.
Much like Rodriguez's Spy Kids films, We Can Be Heroes proves silly, light-hearted fun for its target audience – kids below the age of seven or eight. The filmmaker also proves that he's a technical whiz with a relatively small budget, infusing the proceedings with brightly-coloured special effects resembling a cross between comic books and videogames and making them effective despite their artificiality.
We Can Be Heroes also delivers a wholesome message as the superhero parents look on their similarly-gifted children's alien battling efforts with pride. In the fun fantasy world of Robert Rodriguez, there is no better way to bring families together than by saving the world.
We Can Be Heroes is now streaming on Netflix.
Liked the We Can Be Heroes review? Read our other reviews here.
Follow us on
Instagram
&
Facebook
to keep yourself updated with the latest news and reviews.