After the onslaught of anthology series and movies like Ajeeb Dastaans and Ray, Feels Like Ishq is another in Netflix's growing posse. By now, it's an accepted fact that with anthologies, there had to be a few that stand out. Feels Like Ishq is a 6 parter collection of love stories, with each short film running for about 30 minutes. The shorts are directed by Ruchir Arun, Tahira Kashyap Khurrana, Anand Tiwari, Danish Aslam, Jaydeep Sarkar, and Sachin Kundalkar. The series stars Radhika Madan, Amol Parashar, Rohit Saraf, and Tanya Maniktala among others.
Love stories are usually a huge hit or miss. There's a certain balance that needs to be maintained within the plot. If there's too much love, it's mushy and if there's too little, it's boring. Feels Like Ishq gets it right on the most part, but that's not to say it doesn't have its flaws.
Feels Like Ishq Episode 1: Save The Da(y)te
Avni (Radhika Madan) is perfect as the overenthusiastic best friend at a wedding. So when her life-long BFF runs away moments before the wedding, it is up to her to save the day. She ropes in Jay (Amol Parashar), the clueless wedding planner into a plan that has no real direction.
On paper, this film is the perfect cutesy rom-com. It has a meet-cute, it's set in Goa of all places, and it is full of Indian pop culture references. It was cute, although the storyline wasn't anything special. A few things did feel a little out of place, but all in all, it's a decent watch. It's funny, the characters are quirky, and though the ending isn't quite like the typical one you'd expect out of a rom-com, at least it's different. Although I do appreciate the pun, Save The Da(y)te is nothing profound. But hey, it promised you fluff, and that, it does deliver.
Feels Like Ishq Episode 2: Quaranteen Crush
Quaranteen Crush follows Marinder, a teenager who falls in love, if you can call it that, with a teenager who just moved next door. Sounds like your typical Disney High-School love story right? Well, the pandemic is what really makes this more interesting.
Episode 2 was one of the most relatable ones out of the lot. It had a certain freshness to it, reminding us of the first crushes and secret notes passed in class. There are so many red flags throughout the short film, that for a good minute I was disappointed why Bollywood was stuck on the same old tropes. But trust me, it gets better. The end was perfect. It turned the short film from a cliched stalker situation to a tale of heartwarming first love. Although, the montage towards the end was, in all honesty, quite unnecessary, and perhaps a little cringe-y. I'd still watch it though.
Feels Like Ishq Episode 3: Star Host
Quite possibly my favourite one, Star Host features Aditya (Rohit Saraf), a teenager with an obsession with the Nothern Lights. In order to earn a few quick bucks, he rents out his sprawling bungalow as a "Stay BnB". While he'd been expecting a couple, the girl turns up alone, angry and disgruntled. Fluff ensues.
Now, hear me out. Although the plot sounds quite simple, this one truly is one of the shorts that shine through. It has the whole enemies-to-lovers going for it, Rohit's charm, Mahabaleshwar's stunning skyline, and hil-ar-ious dialogues. "Toxic Tattu" is probably my favourite phrase now. This one is super cute, a little cliche, but it does feel like Ishq.
Feels Like Ishq Episode 4: She Loves Me, She Loves Me Not
A movie with queer characters that do not stigmatize or objectify them? Sign me up. SLMSLMN follows the shy Muskaan, a closeted bisexual, who starts developing feelings for the outspoken new girl in her office. That's it. That's the plot. And I'm all for it.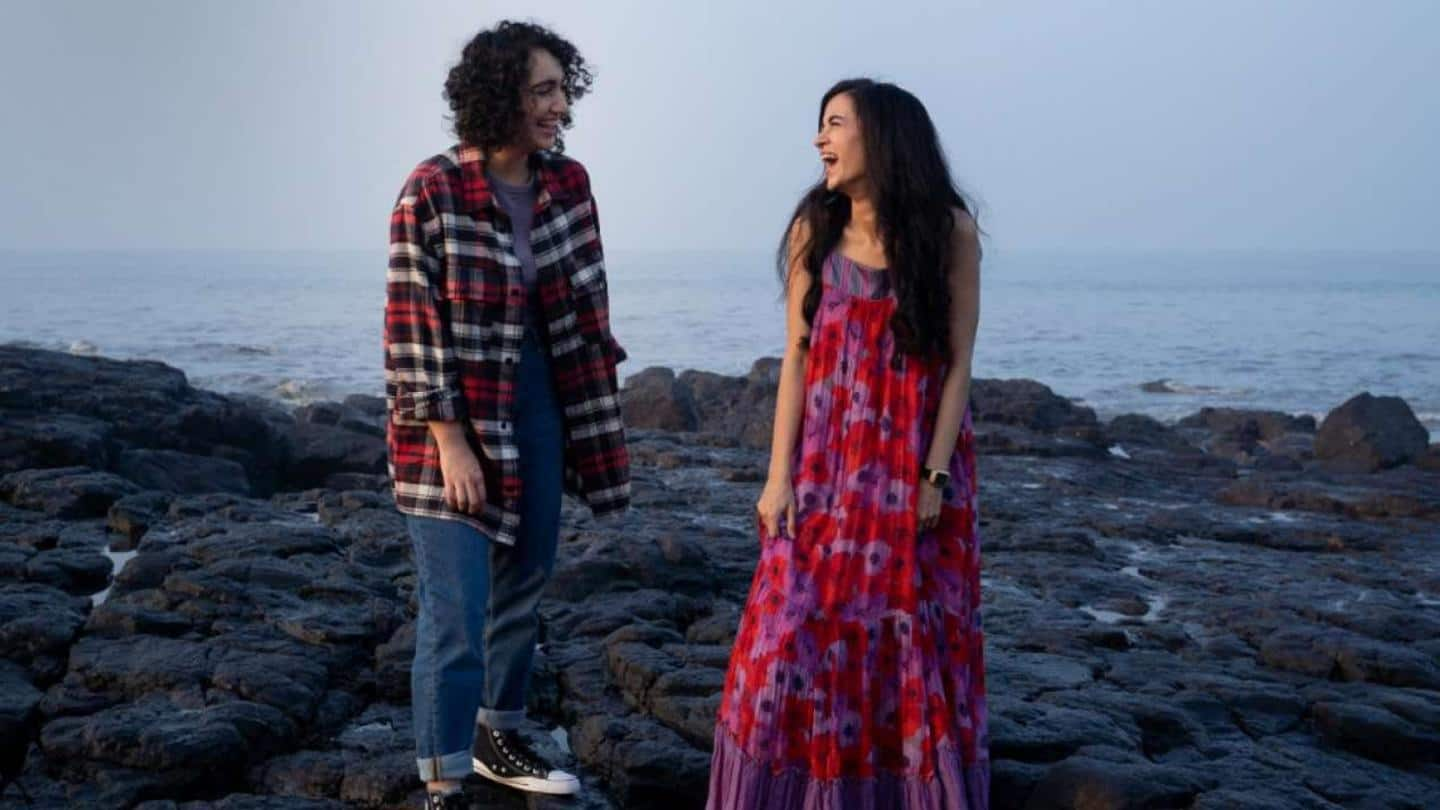 Okay, I lied, this one is my favourite. Everything about this film was perfect. The graphics were so aesthetic, the transition from scene to scene was so smooth I had to hit rewind a few times just to take in the full beauty. And it's really cute, it drips honey. Muskaan is hilarious and so relatably awkward and Tarasha is quirky and fun. Definitely my favourite.
Feels Like Ishq Episode 5: Interview
Interview is definitely one of the most different episodes but in the best way possible. Up for the same job, a woman decides to help Rajeev get the job, taking him around the store for a little educational field trip.
Interview was the only episode with a touch of sadness to it, although that fact only added to the allure. It's a lot quieter than the others, and a lot more subtle, but in the end, it does the trick. Not my favourite, but I'd still rate it a solid 3 on 5.
Feels Like Ishq Episode 6: Ishq Mastana
The last episode followed a privileged teen looking for a rebound, and a girl who drags him to a protest on the first date. If the plot sounds interesting to you, know that it did to me too. Tanya Maniktala was brilliant in Mira Nair's A Suitable Boy, and I was excited to see her on-screen again, but Ishq Mastana just didn't sit right with me.
When part of the anthology, the comparison is inevitable. While the rest of the shots actively use other critical details to set the tone, Ishq Mastana falls short on that level. The protest becomes a lifeless setting and only acts as a weak starting push that loses momentum halfway. I was quite disappointed with this one.
Final Verdict
Feels Like Ishq is a light and breezy watch, with most of the episodes keeping you engaged. the shorts are simple and not overly ambitious. They market themselves as a feel-good Netflix rom-com and give you exactly that. They are cute, fluffy, with just the right amount of snark, and feature strong female leads. I don't know about you, but that equation to me definitely feels like Ishq.
Feels Like Ishq is now streaming on Netflix.
Also Read: Netflix's Ray Review: Has Its Moments
Follow us on
Instagram
&
Facebook
to keep yourself updated with the latest news and reviews.