Dhoop Ki Deewar Episode 15 and 16 were released on Zee5 as per schedule, this early noon. Dhoop Ki Deewar is a Pakistani drama written by Umera Ahmed (Zindagi Gulzar Hai) and directed by Haseeb Hassan (Mann Mayal). The series is a touching portrayal of the lives of the family members of a war veteran. It aims to draw comparisons between the family of the Indian military and the Pakistani military. Up until now, 16 episodes have been released, with two episodes releasing every week. Each clock in at about 35 to 40 minutes.
– Dhoop Ki Deewar Episode 15 and 16 Recap contains spoilers –
During the last two episodes, we see that Vishal goes for the entrance exam with only his Dadi's blessings and asks her not to tell Sara's Dadi about this. He had lied to her about pursuing engineering, and not the military. Dhoop Ki Deewar Episode 15 and 16 starts with Sara asking Vishal about how his entrance exams, thinking they are for an engineering college. He still doesn't tell her the truth about applying to the military.
Meanwhile, Junaid's parents have come to Sara's house to present a formal proposal. Amna, Sara's mother, is reluctant, but their family is being overly pushy, and Sara's Dada steps in to shut them down. Even with Amna's feeble protests, we can see the range of character development since the first few episodes where she was sort of like a pushover.
Sara has gone to a nearby park to exercise and meets Junaid there by chance. He tries to plug in talks of his proposal that she has already rejected multiple times. He walks her back home from the park since she lives right next door to him, and things end there. At night, she talks about the incident to Vishal, who is obviously stalking Junaid's social media. Sara knows he's jealous even though Vishal denies it. She asks him about his result again, but he dismisses it.
Sara's Dadi and Vishal's Dadi have regularly started talking via Skype now. They make small talk in the beginning, about Sara and Vishal's results, and Dadi ends up slipping up and lying to Sara's Dadi that Vishal already got admission to an engineering college. They start reminiscing about olden times and the focus shifts to the sons they lost very recently. The pain is still raw, and while talking to each other they realize just how pointless this decades-long war really is.
Junaid and Sara regularly run into each other at the park, even though Sara does her best to avoid him. This time around, he gifts her a keychain with a stethoscope charm on it, saying he saw it at a random shop and thought of her. She accepts it and asks him if she should give him one with a gun on it, to which Junaid says he'd rather have the army emblem on it.
Sunanda is given a letter by the house help. Of course, it is Vishal's acceptance letter to the Academy of Defence. Sunanda had not been told about him even applying and enraged, she flies to Vishal's room for a confrontation. Vishal tries to calm her down and when that doesn't work, he explains to her that he had no choice.
It wasn't a quest for martyrdom that drove him to apply to the military, but it was a thirst for the power and security their family had enjoyed when his father was still alive. Sunanda shames him for having such a silly reason for applying, and that it wasn't his patriotism that led him to think about this, but only the power that comes with the uniform.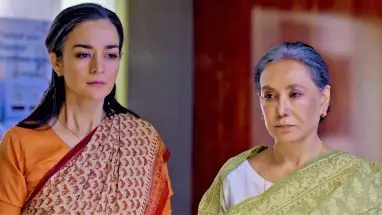 Vishal doesn't budge from his resolve, and Sunanda approaches Vishal's Dadi and finds out that she was the one who encouraged Vishal to apply. For the first time, Sunanda falls at her feet and sobs her heart out, asking Dadi to convince Vishal to withdraw his name. But Dadi sits there like a rock, without saying another word.
Meanwhile, Sara's Dadi mentions to her that Vishal has secured admission to an engineering college. Sara rushes up to her room to call and congratulate him, but Vishal's voice betrays a hint of sadness. She tries to coax the truth out of him, but he shuts down and doesn't open up.
Sunanda is disturbed and understandably so. She just lost her husband to war and is scared her son will encounter the same fate. Desperate, she calls Sara and asks her to help. Sara is confused by what Vishal's mother is saying. When Sunanda finally reveals the truth about Vishal and the military academy, Sara is taken aback and sinks into a hole. At this point, both of them were super obvious with their feeling for each other, and this blow is almost too much for her to bear.
Vishal overhears this conversation and tries calling Sara, but she declines his repeated calls. A day later she finally responds. Vishal tries to justify his actions, but Sara isn't having it and breaks all ties between them. The next day, Vishal receives a box of sweets Sara had sent from Pakistan 2 days ago.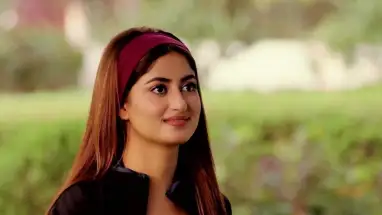 Sara, in her grief over losing her friendship with Vishal, asks her mother to accept Junaid's proposal. Amna is confused, but Sara reassures her sufficiently. Junaid runs into Sara at the park and says he is very happy she's accepted the proposal and that she would never be upset again. They get engaged, and everyone except for Sara is happy.
Vishal sees a picture of the engagement on Facebook and his mental health becomes even worse. He suffers a nervous breakdown and has to be admitted to a hospital. Sara doesn't know anything about this. Dadi blames Sunanda, instead of herself.
Meanwhile, in Dhoop Ki Deewar episode 15 and 16, Junaid's family pressurizes Sara's family to get them married first, and she can continue her studies after that. After a little convincing, her family agrees on fixing a date. Sara's Dadi mentions this to Vishal's Dadi and invites her to the wedding. Vishal leaves for the military academy for his training.
The story moves forward, with Vishal coming back home for a few days before he receives his first posting. Both haven't spoken to the other for a while now. Dadi mentions Sara's wedding to everyone at the dinner table, and Vishal leaves. He calls Sara to "congratulate" her, but he's fighting back tears the whole time. Sara is in a similar situation. Sara ends the call by pretending she can't hear Vishal.
Dhoop Ki Deewar Episode 15 and 16 ends there.
Final Verdict: Dhoop Ki Deewar Episode 15 and 16
Dhoop Ki Deewar episode 15 and 16 lead up to the season finale with dexterity. It resolves a lot of plot points and introduces new ones. The show has now taken an unexpected direction, but the promise it holds is as strong as ever. Will the season finale be as strong as Dhoop Ki Deewar episode 15 and 16 were? Only time will tell.
Dhoop Ki Deewar Episode 15 and 16 are now streaming on Zee5.
Also Read: Netflix's Brand New Cherry Flavor Review: This Riveting Series Will Mess With Your Head
Follow us on
Instagram
&
Facebook
to keep yourself updated with the latest news and reviews.